Upcoming events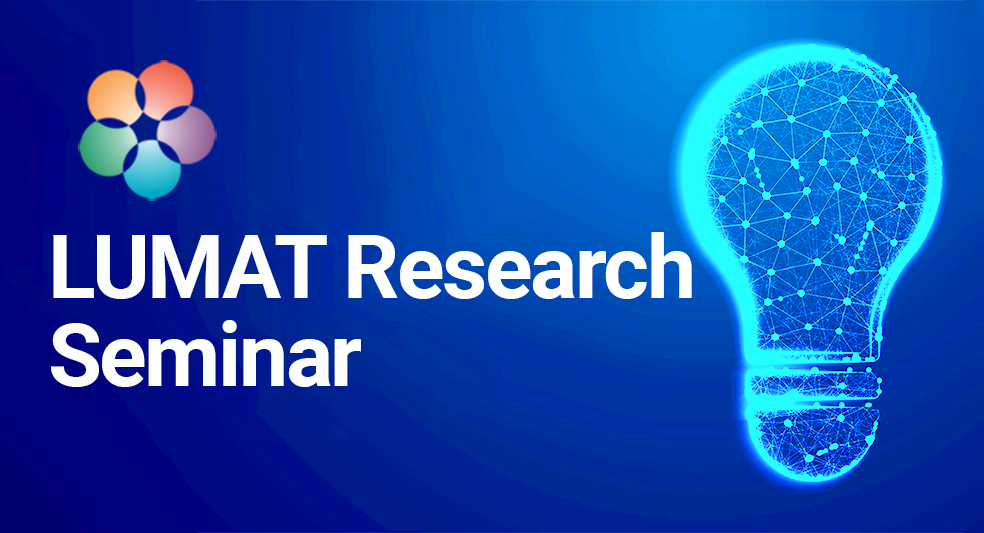 Seminar on Thursday 6.5 at 14-16 through Zoom. Register here. (Seminar presentations in Finnish)
Chair: University lecturer Dr. Veli-Matti Vesterinen (University of Turku)
Presentations:
KT Tuike Iiskala: Metakognitiivinen säätely yhteisöllisessä matematiikan ja luonnontieteen oppimisessa
KM Saku Määttä: Ympäriltämme löytyvien matemaattisten piirteiden ja suhteiden huomaaminen avuksi murtolukujen oppimiseen peruskoulussa
FM Henna Pesonen: Lukion fysiikan opettajien suhtautuminen opetuksen digitalisaatioon
LuK Herkko Laukkanen: Loistavan oppilastyön kehittäminen
Picture by: Vecteezy.com
Thursday 9.9., 7.10, 11.11 and 9.12 at 14-16 through Zoom
LUMAT-symposium and national LUMA-days: 9-10.6.2021
Previous events
Research seminars on 9.4, 14,5, 10.9, 15.10, 12.11, 10.12.2020, 14.1,11.2. and 11.3.2021

14.5.20:

Chair: Veli-Matti Vesterinen (University of Turku)
Presentations: Jaakko Turkka: Promoting scientific literacy through drama-based pedagogy, Marja Holm: Achievement emotions and executive functions problems amongst adolescents: Mathematic difficulties, low mathematic performance, and special education support in mathematics. Suvisaara Holmström: S2-oppijan kemian opiskelun kielliset vaikeudet ja heidän oppimisensa tukeminen

10.9.20:

Chair: Sari Harmoinen (University of Oulu)
Presentations: Outi Haatainen: Integrated science education: Teachers` perceptions and practices. Katariina Kotkanen: Eriyttäminen fysiikan opetuksessa yläkoulussa. Sari Harmoinen, Katri Koivu ja Leena Pääsky: Yliopisto-opiskelijoiden valmius sosiaaliseen vaikuttamiseen ilmastoasioissa

15.10.20:

Chair: Terhi Mäntylä (University of Jyväskylä)
Presentations: Salla Pehkonen: Eri ikäisten alakoululaisten adaptiivinen numeerinen lukutaito. Roosa Aho & Jenna Mannila: Narratiivitutkimus kuudes- ja kolmasluokkalaisten käsityksistä, tunteista ja toimintamalleista ilmastonmuutoksen suhteen. Terhi Mäntylä, Viivi Sorsa & Leena Partanen: Kasvihuoneilmiön ymmärtäminen lukion lopuksi – Ylioppilaskoevastausten analyysi

12.11.20:

Chair: Johannes Pernaa (University of Helsinki)
Presentations: Eero Jalonen: Molekyylimallinnus ja episteemiset tunteet kemian opetuksessa. Johannes Pernaa: Tulevien radiokemistien kokemuksia opintojen relevanssista

10.12.20:

Chair: Mervi Asikainen (University of Eastern Finland)
Presentations: Juho Tiainen: Työelämäsisältöisen opetusmateriaalin käyttö matematiikan opetuksessa yläkoulussa. Mikko Kesonen: Argumentin analyysimalli fysiikan opetukseen. Jaakko Lamminpää: Draw-A-Science Comic: eri tehtävänantojen vaikutus ja tutkimuksen kokeminen vaarallisena

14.1.21

Chair: Pasi Nieminen (University of Jyväskylä)
Presentations: Jasmin Kilpeläinen: Yhteistoiminnallisten tehtävien laatiminen älykkääseen oppimisympäristöön. Pasi Nieminen: Alakoululaisten luomat säännöt keinulaudan tasapainolle simulaatioympäristössä

11.2.21:

Chair: Noora Pyyry (University of Helsinki)
Presentations: Lauri Jäntti: Kaupunkitutkimuslaboratorio koululaisille: arjen kaupunkitilat osana oppimisprosessia. William Smolander: Kestävyys tähtäimessä: Jälkihumanistinen näkökulma tiedekasvatustutkimukseen

11.3.21:

Chair: Riikka Lahtinen (University of Tampere)

Jenni Vartiainen: Varhainen tiedekasvatus. Daranee Lehtonen: How a hands-on learning tool employing tangible technologies can assist primary school students in learning mathematics. Vikke Vuorenpää: Yliopisto-opiskelijoiden psykologisten perustarpeiden täyttyminen ja minäpystyvyyden kehittyminen (insinööri)matematiikan opetuksessa. Mika Koponen: Opettajaopiskelijoiden näkemyksiä matematiikan opettamiseen tarvittavasta tiedoista

LUMAT Summer School virtually on 2.6.2020.
LUMAT Research Symposium virtually on 3-4.6.2020.

LUMAT special issue on summer school and symposium in December. Special issue published in March.
Other upcoming events